from Byron Health Center Medical Clinic Manager Violet Ellowsky, LPN
Whenever we need to raise a little extra money for our Jan Faherty Food Pantry, our Employee Emergency Fund, the Alzheimer's Association or any other cause, we usually turn to a bake sale, because we love to eat!
At every Byron Health Center bake sale, the most sought after item is always our Health Clinic Manager Violet Ellowsky's baklava! Why, you may ask, is it that everyone craves that sweet Greek treat that Violet creates? Because, it's just that good! The Greek deliciousness comes naturally for Violet. She was born in Florina, Greece, then crossed the Atlantic on the Queen Frederica with her parents and arrived in America on January 1st, 1955, at the young age of three. She then became a US citizen at age five when her parents became naturalized and settled in Fort Wayne.
She would follow her passion for caring for others in attending Ivy Tech to become a Licensed Practical Nurse (LPN).
Growing up in the local Greek community, she attended Holy Trinity Greek Orthodox Church where she learned traditional Greek folk dancing. While in her late teens, the dance group was performing regularly at Greekfest and became the subject of a Journal Gazette article. Now, the only time we find Violet dancing in the streets is when she's part of our entry in the Three Rivers Festival parade.
Along with her Greek heritage, Violet inherited the knack of making baklava, the sweet Greek treat, for her family and friends. She's continued that tradition for our residents and team members at every bake sale fundraiser that we do. She's even gone as far as making double-batches and separating out different allotments to set aside so our team members from different shifts will all be able to purchase some of the delectable dessert.
Violet enjoys bringing joy to her family and friends, and now she wants to bring joy to your life by sharing her baklava recipe with you!
Yassou!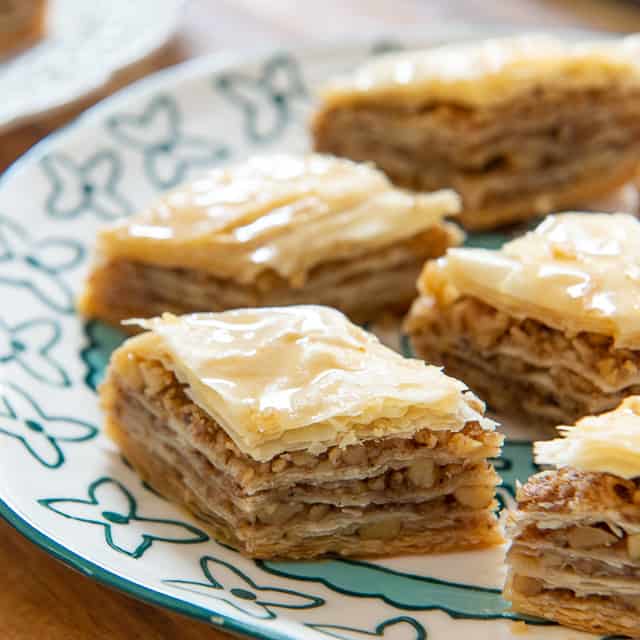 Violet's Baklava
Syrup Ingredients and directions:
3 cups sugar
1 & ½ cup water
Juice of ½ lemon
1 cup clove honey
Combine sugar, water and lemon juice.
Boil for 10 minutes
Slowly add honey and simmer for 5 minutes.
Allow to cool.
Baklava Ingredients and directions:
1 pound ground walnut meats
½ cup sugar
2 teaspoons cinnamon
1 pound fillo (phyllo) dough
1 pound unsalted butter (melted)
When melting butter, spoon off foam from surface to clear butter.
Combine walnut meats, sugar and cinnamon, the set aside.
Line bottom of buttered 9x13pan with 10-12 fillo, brushing each layer with melted butter.
Sprinkle thin layer of walnut mixture and cover with 3 fillo brushing each with melted butter.
Sprinkle with more Walnut mixture.
Repeat process until all nut mixture is used (usually four layers).
Cover with remailing buttered fillo.
Chill for 25 minutes.
Cut into diamond shapes.
Bake in slow oven at 325 degrees for 1 to 1 ½ hours.
When slightly browned, remove from oven.
Slowly pour cooled syrup over hot baklava until completely absorbed, although some syrup may remain.
Allow to cool.
When completely cooled, cover with foil.
Allow to stand for 24 hours before cutting and removing pieces from pan.
Enjoy!