Memory Care
---
Individuals with dementia, including Alzheimer's disease, may reside on our secured memory care neighborhoods for increased structure and safety.
Other residents who would benefit from a secured neighborhood stay may exhibit sexually-inappropriate behavior, wandering or lack of safety awareness, to name a few. Although these family members reside on a secured neighborhood, they still participate in whole home functions and attend outings in the community accompanied by our highly-trained staff.
Our memory care neighborhoods specialize in behavior modification and intervention pilot programs including Cognitive Re-direction Strategies, Horticulture Therapy, Music Therapy, Aroma Therapy and Art Therapy.
We are the first facility in the area with separate memory care neighborhoods for men and women. The neighborhoods of Mauch Drive and Floridis Avenue are home to around 25 ladies while the neighborhoods of Hart Cove and Katsanis Court are home to around 25 fellows. Even though we understand that our residents need the extra attention that Memory Care provides to keep them healthy and safe, we like to concentrate more on having fun, learning and experiencing as much as life has to offer. The family-like atmosphere where we enable purpose-filled lives of all is sewn throughout the fabric of our Memory Care neighborhoods as we meet each individual along their journey.
A multi-sensory, or Snoezelen, environment, Ellowsky Oasis, is available on our Ladies' neighborhood where relaxing spaces help reduce agitation and anxiety, but also engage and delight, stimulate reactions and encourage communication for our residents. Not only team members, but also the family members of our residents, are encouraged to experience the multi-sensory area with their loved ones.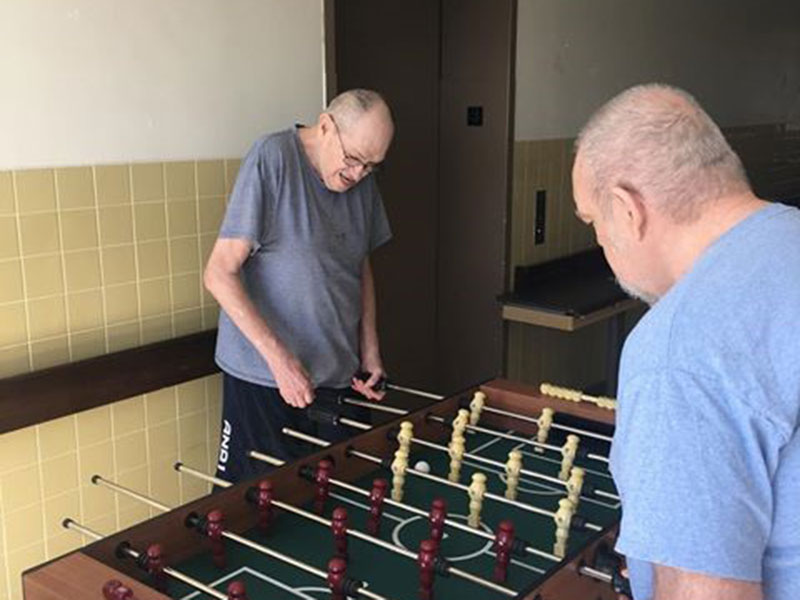 ---
---
---